The Department of Land Resources prides itself on its hands-on approach to learning. Students are provided learning experiences that duplicate real world applications. Housed in the Landaplenty Center within the Waco Center, the Department has state-of-the-art facilities and about 300 acres of land adjacent to the building for outdoor projects. A sawmill is located on the property for student use along with storage buildings for timber harvesting equipment. A computer lab is available for computer-based classes such as Computer Assisted Mapping and Geographic Information Systems (GIS). This lab contains computers, plotters, a scanner and software that replicates those used in government, business, and industry offices. A wide array of hand tools, large equipment and instruments suitable for field labs are available to enhance instruction and learning. Global positioning systems (GPS) and geospatial technologies are used in several classes.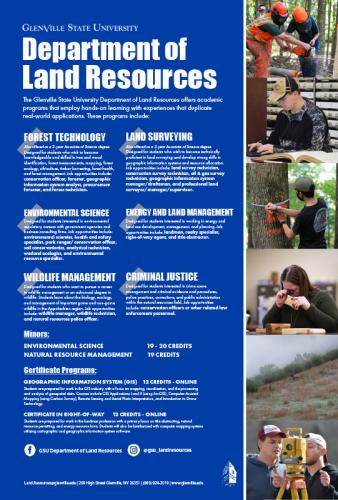 The department offers a Bachelor of Science degree in Natural Resource Management with six major areas: Criminal Justice, Energy and Land Management, Environmental Science, Forest Technology, Land Surveying and Wildlife Management.
Two associate degree programs, in Forest Technology and Land Surveying are also offered. Students completing these associate degree programs can matriculate seamlessly into the Natural Resource Management degree program. The associate degree programs, like the baccalaureate program, have active advisory committees comprised of representatives from government, business and industry. These advisory bodies ensure that classes are continually updated and meet the needs of industry and government. Job opportunities remain strong for graduates of the three degree programs.
The department also offers Certificate in GIS and Certificate in Right of Way. The certificate program requires 12-26 hours of relevant courses. The Certificate in Geographic Information System (GIS) is a completely online program that requires 12 hours of geospatial technology courses. We also offer Certificate in Right of Way that requires 26 credits of traditional classroom and online courses in business communication, landman, land surveying and geospatial technology courses.
Students can also minor in Environmental Science and Natural Resource Management with 19-20 hours of additional courses in the discipline.
Contact
For additional information about the Department of Land Resources, its programs, faculty, and organizations contact:
Mr. Adam Black
Department Chair
Associate Professor of Landman Technology
215 Waco Center 
304-462-6378
Send email
Links