Forest Technology Associates Degree
The Associate of Science in Forest Technology program at Glenville State University has been offered since 1968 and continues to be successful. The two year degree allows students to complete the degree promptly and then start their forestry career. Through classroom study, field trips, hands-on lab experiences and an internship students will acquire in-depth forestry knowledge and real-world forestry skills. 
Students become knowledgeable and skilled in tree and wood identification, forest measurements, mapping, forest ecology, silviculture, timber harvesting, forest health, and forest management. Graduates pursue careers in wood products industries, consulting firms, state and federal government, and with utility companies. Glenville State University's A.S. Forest Technology program is accredited by the Society of American Foresters. This accreditation means that the program meets demanding nationwide standards and provides a high quality, rigorous education to students. 
Students interested in obtaining a bachelor's degree after they complete their two year degree can seamlessly enroll in the Natural Resource Management degree program and major in the forest technology option. The four-year degree program opens up more employment opportunities in state and federal government agencies that require a bachelor's degree.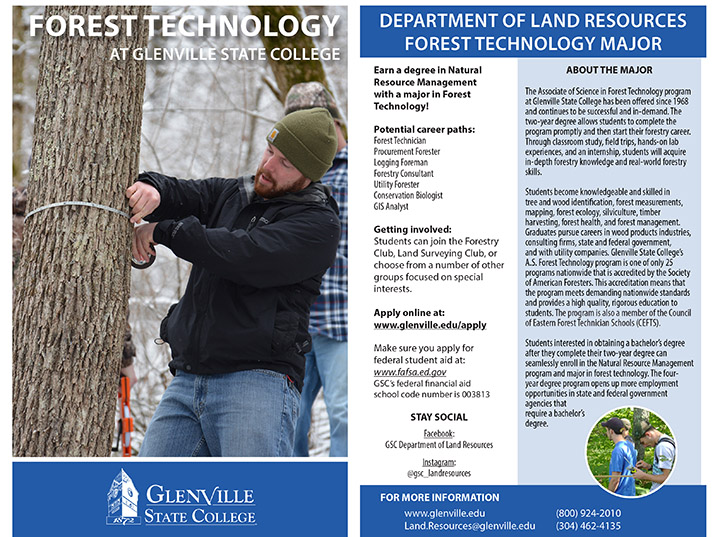 Mission Statement
The mission of the program is to produce graduates that will have the knowledge, analytical skills, and abilities to fill employer needs for the wood industries, consulting firms, and government agencies involved with the management of timberland, marketing of timber, and manufacturing of wood products.
Goals
The program will maintain specialized accreditation by the Society of American Foresters.
The program will strive to incorporate the most technologically-advanced forestry techniques into its curriculum.
The program will work to improve its retention and graduation rates.
The program will ensure that graduates achieve the learning objectives of the program.
Graduates will have the educational background to achieve the experience necessary to be a Registered Forest Technician in West Virginia.
Objectives
A graduate of this program will:
Be able to identify and name woody plant and animal members of the forest community and understand their biological and ecological functions.
Prescribe silviculture practices to meet landowner objectives such as tree plantings, thinnings, forest regeneration, invasive species control and prescribed fire.
Measure the volume and value of standing timber and be able to grade trees, logs and lumber.
Understand the role of fires, insects, and diseases in the forests and recommend actions for the protection of forest resources.
Be able to interpret imagery and utilize geospatial technology for cartography and analysis.
Develop and prescribe forest and wildlife management plans to meet forest landowner objectives such as timber production, wildlife and fish habitat, aesthetics and recreation.
Be able to utilize courthouse records, contracts, maps, and proper timber harvesting techniques in order to plan and supervise timber harvests for private and public clients.
Receive the following certifications: