Natural Resource Management High School Program
Glenville State University's Department of Land Resources has partnered with EQT Foundation and First Energy to provide free college courses for high school juniors and seniors interested in pursuing a college career in any of the 6 majors in Natural Resource Management (NRMT):
Forestry
Land Surveying
Energy and Land Management
Environmental Science
Wildlife Management
Criminal Justice 
The grant will pay for the tuition and provide the textbook required for the course. We will  link the HS students with professors and college students in the Department of Land Resources for mentoring and tutoring. This program is available for students in all 55 counties in West Virginia.
To learn more about the academic programs offered by the Department of Land Resources, please download the brochure here: 
For details about this NRMT HS Program, please select one of the following:
This program is for the entire state of WV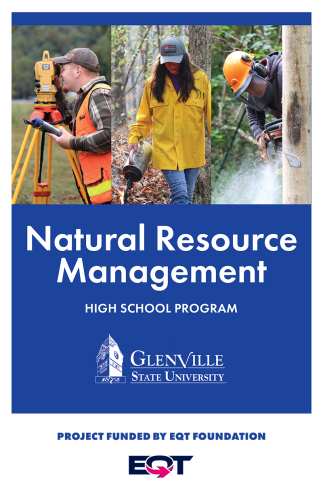 To apply, download application form below and email it to offcampus@glenville.edu. For more information about Dual Credit College Courses at Glenville State College, please contact Off Campus Programing at: (304) 462-6127 FAX: 304-462-6058.