Land Surveying Associates Degree
Graduates of the Land Surveying associate degree program are eligible to take the Fundamental of Surveying examination and upon successful completion, they obtain the status of surveyor intern. The curriculum is approved by the West Virginia Board of Examiners of Land Surveyors and the degree provides two of the six years required for licensure.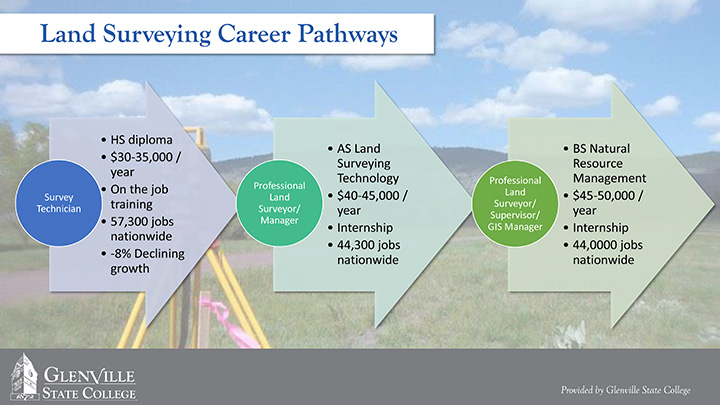 Mission Statement
The Land Surveying program at Glenville State University provides a learning environment designed to mold, train, and educate future members of the surveying profession.  Students are encouraged to participate in organizations that promote self-improvement, the improvement of the surveying profession, as well as the welfare of society as a whole.  Through a comprehensive study of the needs of the public and an ability to explain the practice of land surveying, students are instilled with the knowledge and education to articulate ethics, professionalism, and a life-long desire for education.
Goals
Graduates will be able to obtain licensing as a Professional Land Surveyor after qualifying field experience and passing the national and state test.
Graduates will operate SurvCadd and other computer programs to efficiently draft and analyze field data.
Objectives
A graduate of this program will:
Review surveying history and methods of early American surveying history.
Be able to locate and identify property monuments, such as living trees, dead trees and wood from trees or stumps.
Be able to utilize courthouse documents including, but not limited to, grantor-grantee indexes, will books, plat books, land books, etc.
Become knowledgeable of mineral and timber surveys and computations associated with them.
Become knowledgeable of the field use of compasses, transits, theodolites, and global positioning systems.
Become proficient in computations that are commonly done and utilized in field surveys.
Gain a use of boundary law principles as applied to retracement surveys.
Gain knowledge of ethics and integrity in professional interactions.
Utilize state-of-the-art software for data collection, processing and mapping as related to various surveying projects.
Take field trips to government or industry entities to broaden the knowledge of the subject material in various classes.
Become knowledgeable of remote sensing materials and their use in land surveying projects.
Students will:
Understand the opportunities and responsibilities in the surveying profession

Perform elementary surveying measurements and computations

Describe the surveyor registration process

Describe professionalism, liability, and statue law related to land surveying

Prepare property descriptions

Interpret and apply boundary line retracement principles with regards to various types of properties

Establish boundary line by unwritten methods

Perform intermediate and advanced surveying computations

Communicate the methods and procedures of land survey calculations by the preparation of land survey plats, legal descriptions, and/or a report of land survey