Glenville State University Art and Design Program Receives $7,500 Grant from FirstEnergy Foundation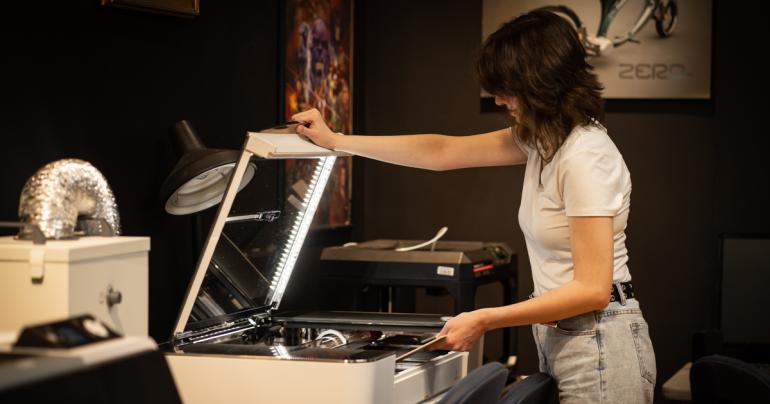 FOR IMMEDIATE RELEASE: November 8, 2022 
For More Information:
Glenville State University
Public Relations & Marketing
(304) 462-4115
GLENVILLE, WV – The Glenville State University Art and Design Program has received a grant from the FirstEnergy Foundation to build on their resources available to students.
The grant, totaling $7,500, was used to purchase a GlowForge Pro 3D laser printer for the program. Using precision laser cutting, the GlowForge is capable of scoring, engraving, and cutting materials such as acrylic, cardboard, fabric, some foods, glass, hardwood, leather, metal, paper, and slate.
"With the wonderful grant from FirstEnergy, the Department of Fine Arts was able to expand our capabilities to give the students the tools and experience needed to bring their creative ideas to life," said Associate Professor of Art and Gallery Director, Christopher Cosner. "The Glowforge Pro will help students learn and fabricate their ideas for everything from industrial to artistic expression. We want to thank the FirstEnergy Foundation for their continued support for our students and Glenville State University. Their generous contributions are helping to forge the next generation of creative and innovative industry leaders."
"One of our priorities is to empower our communities' educational initiatives, and we're proud to support Glenville State University and its students in the Department of Fine Arts with this grant," said Lorna Wisham, President of the FirstEnergy Foundation.
The Art and Design program at Glenville State University is equipped with a state-of-the-art design lab with industry standard software and workstations and a 3D printer. The program prepares students for careers in graphic design, studio art and ceramics, illustration, digital publishing, and more.
"We are very pleased for the continued support that our friends at FirstEnergy are providing to our academic programs," said Glenville State University President, Dr. Mark A. Manchin. "By adding this new equipment to the Design Lab, our graphics and digital media students will be able to practice their craft as 'makers' and do so on a top-of-the-line machine. I look forward to seeing what they create."
Click here to learn more about Glenville State University's Art and Design program.