Bil Lepp to read at the next Little Kanawha Reading Series performance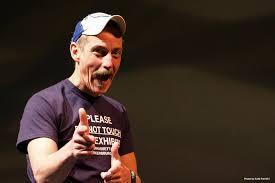 By Samantha Lamb
The next installment of the Little Kanawha Reading Series will take place on September 28th at 6 p.m. at the Pioneer Stage on Main Street. Bil Lepp, a native West Virginian, will be the next reader. Lepp is a five time winner of the West Virginia State Liars' contest, as well as the author of six books and sixteen audio collections. The Charleston Gazette calls him "a cross between Dr. Suess and… film noir."
Lepp has performed at the Smithsonian Folklife Festival, Comedy Central's Stage on Hudson, and the National Storytelling Festival. Lepp claims that while his stories are not entirely truthful, they all contain at least a small amount of honesty. He can put a positive spin on any situation, whether it be a funeral, a hunting trip or a trip to the dentist's office 
Lepp has been recognized by the Parents' Choice Foundation as well as the Public Library Association. He has been awarded the National Storytelling Network's Circle of Excellence Award. Lepp currently resides in Charleston, West Virginia with his wife and two children. If you would like to see examples of his performances, they can be found on his YouTube channel at https://www.youtube.com/channel/UCiHSKgtEaPm8dsCldG8Wg7w.
As always, the reading is open and free to the public. The reading will also be livestreamed on YouTube for viewers that cannot attend in person. The livestream can be found on Glenville State College's YouTube channel. Please wear a mask and stay six feet apart if you choose to attend. Once the Pioneer Stage reaches max capacity, the doors will be locked and nobody else will be allowed in. Outdoor seating is also available, and audio will be played over the speaker system outdoors.
Editor's note: This event was one of several that were cancelled because of the COVID-19 outbreak on campus.