Homecoming Week off to a great start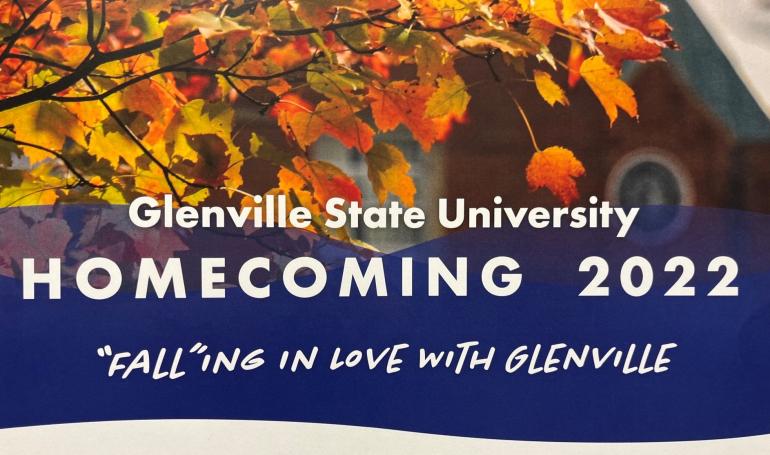 Homecoming 5k Run/Walk and Trunk or Treat
By Will Adkins
On Monday, October 10, Glenville State will be holding a "Stop the Stigma Run/Walk," followed by  "Trunk or Treat" in the Waco Center parking lot. The run will begin on campus at 6 p.m. and everyone is welcome to participate. The run will end in the Waco Center parking lot and will be followed immediately by the trunk or treat event, also in the Waco parking lot. 
Trunk or Treat is a spin on Halloween Trick or Treat. Glenville athletic teams, organizations, and departments will be handing out candy to the community. The event is is open to kids of all ages, and it is asked that the parents or guardians bring big bags to hold all the candy that will be given out.
OOTD (Outfit of the Day) contest on for Homecoming
By Dani Ruest
"Fall"ing in Love with Glenville is the 2022 homecoming theme. Each day will have a different theme - think of it as a voluntary dress code. Pictures that show the spirit of each day's theme can be entered into a daily contest. To enter, send pix to @glenvillebsu on Instagram or email them to olivea.norris@glenville.edu.Many departments on campus will donate prizes.
Monday, October 10
Mascot Monday encourages everyone to represent their favorite sports teams by wearing jerseys, bandanas, high socks, and anything else to show off their team spirit.  The homecoming picnic will be held from 11 a.m.-1:30 p.m. and the coronation from 12-12:30 p.m. in the amphitheater. The day will end with the "Stop the Stigma" run and Trunk or Treat in the evening.
Tuesday, October 11
Find a friend to match with because Tuesday is Twinning Tuesday. When you find your buddy, head over to the ampitheater from 10 a.m.-2 p.m. for personalized t-shirts. Later there will be a volleyball game against Frostburg at 7 p.m. as well as the Music Fest concert in the Fine Arts Building. From 8-10 p.m. there will be a Glow Swim sponsored by the Black Student Union.
Wednesday, October 12
Dress in blue and white for Waco Wednesday. From 10 a.m.-2 p.m., make a personalized mason jar in the ampitheater. Open Mic Night and a baked potato bar run in the Musket from 8-10 p.m.
Thursday, October 13
Throwback Thursday motivates everyone to create some 90's and Y2K inspired outfits by dressing in denim, tracksuits, and layers. From 10 a.m.-2 p.m. there will be DIY Stuffed Animals in the amphitheater. Outside the ballroom there will be carnival games from 8:30-11 p.m. The homecoming dance will take place in the ballroom from 9 p.m.to midnight.
Friday, October 14
Friday celebrates this year's homecoming theme and encourages students to dress in their favorite fall attire. At 9:00am there will be the Tim Carney Golf Tournament. There will be the celebration of life for GSU's First Lady Gigi Manchin at 2:00pm in yard of the presidents house. From 4:00pm-6:00pm there will be the 150 year history exhibition reception and Emeriti Wall unveiling. There will be an Alumni Center open house from 4:00pm-8:00pm. The chill cook-off will be from 5:30pm-7:00pm in the amphitheater. At 7:00pm there will be the pep rally.
Saturday, October 15
The Alumni Band registration will be at 8 a.m. followed by the parade at 10 a.m. From 11 a.m.-1:30 p.m. there will be the alumni tailgate tent set up at the Waco Center. Also from 11 a.m.-1:30 p.m. there will be the Greek reunion. Prior to the football game there will be the recognition of 1970 and 1972 basketball championship teams, as well as recognition of former Persussion Ensemble members at halftime. Kick off for GSU vs. Alderson Broaddus will be at 1:30pm. To conclude homecoming there will be a bonfire at 9 p.m.
Keep your eyes open for announcements and reminders posted on instagram @gsu_activities and flyers around campus.