Little Kanawha Players open holiday show on Thursday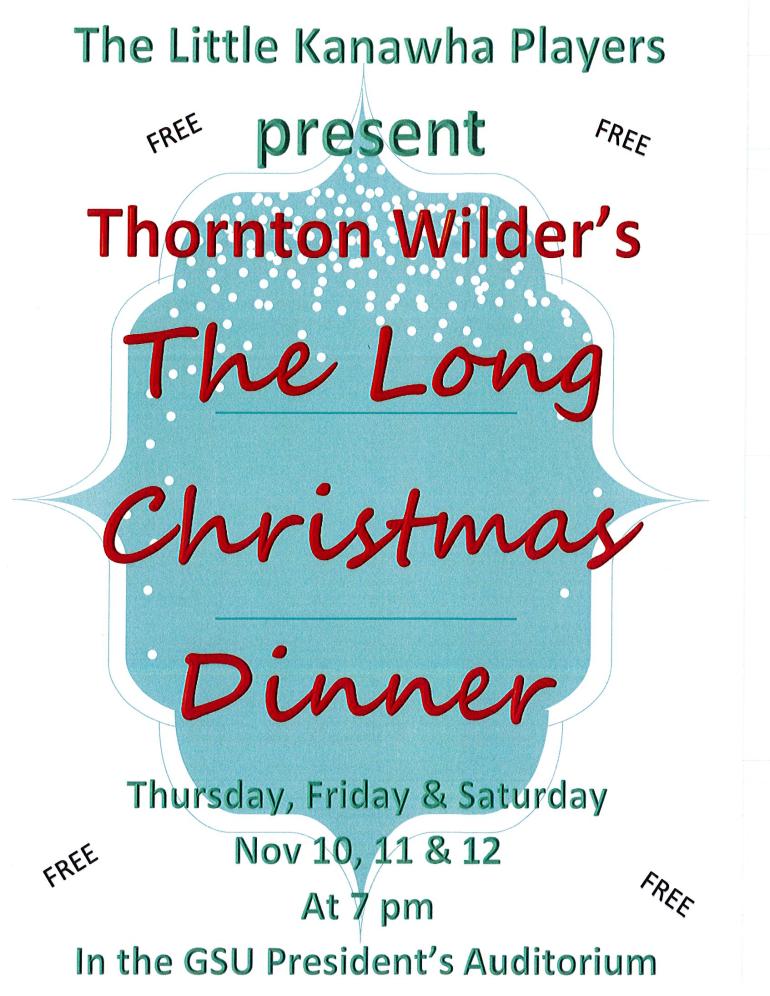 By Abby Hudson
The Little Kanawha Players will perform "The Long Christmas Dinner" by Thorton Wilder in the Glenville State University President's Auditorium on the following days at 7 p.m.:
Thursday, November 10

Friday, November 11

Saturday, November 12
Dr. Gary Morris is the executive producer of the play. It is produced by Jennifer Wenner, and directed by Dr. Marjorie Stewart and Dr. Brian Johnston. The stage manager is Rebekah Hypes and technical support is provided by Dr. Jonathan Minton. Stage crew members include Rebekah Hypes and Victoria Osborne.
The cast includes McKinzie White as Lucia; Alex Sampson as Roderick; Angeles Burgess as Cousin Ermengard, Mother Bayard, and Nurse; Caleb Skinner as Cousin Brandon and Roderick; Sam Chambers as Charles; Kodie Conrad as Genevieve; Breanna Murphy as Leonora Banning; and Roger Hypes as Samuel. Stewart comments, "The cast members and technical crew are doing a great job."
"The Long Christmas Dinner" is a story of the Bayard family as they grew and developed over 90 years in the American mid-west while dramatizing the lives of 11 family members over four generations. Stewart says, "Because the play is more symbolic than literal, audience members must use their imagination," The set is stark and suggestive rather than like what audiences might expect from a Broadway production. "The Long Christmas Dinner" gives audience members a moment to pause and reflect on their own families, what has been lost to them, and what holidays mean for each of them.