New mural beautifies GSC library wall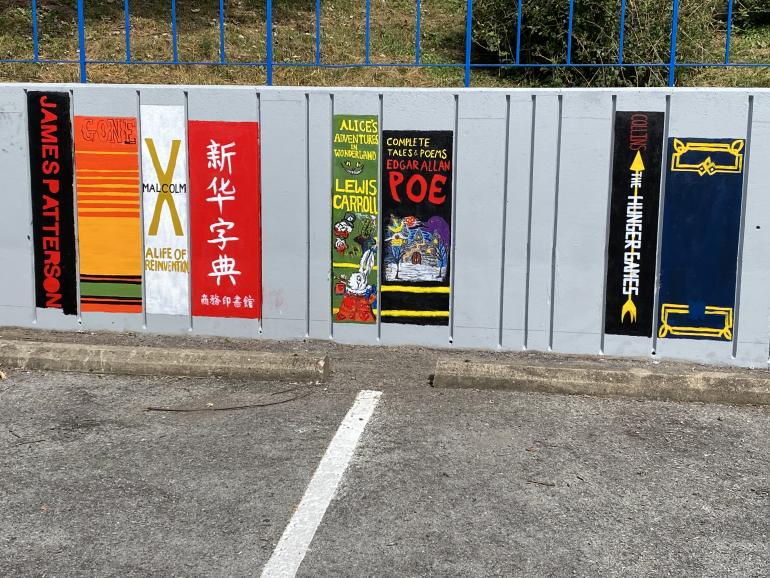 By Katelyn Miller
This week started the much talked about mural project that the art department has put together for Glenville State College. Our First Lady, Virginia Manchin, met with Jason Gum and asked him what we could do to unify the campus that can also reflect on the library; hence the Mural Project was born. Gum then got with Duane Chapman and art department student Zoe Yates to set the entire plan into motion.
This project is to bring all students together while also giving GSC some much needed color. Hardman's Hardware Store  donated supplies to help with this. Paint has already been bought, along with letters and stencils will be available so, students won't need to worry about artistic abilities. Students and other volunteer painters may choose a book from the library or bring their own and paint the spine on the designated spots on the wall behind the library parking lot. There is no censorship, as the committee wants students to have free rein of their creativity. They do ask that painters keep in mind that kids do visit the ibrary.
"Student involvement is looking good! Student seem excited to be a part of this," says Yates. "We're hoping that excitement carries over to the actual work."
Projects like this will always need a good bit of student help for them to thrive. In the SGA meetings where the mural was discussed, Gum said, "If this goes well, we want to add more murals to the school to make GSC a beautiful place to be."
"The arts are important to a small town like Glenville. They can bring us together in ways that don't exist in larger universities," says Chapman " This project is going to inspire students and the community to come together."
Volunteers should sign up on the sheet in the library, where they can chose a book and a time. The number of painters in each time slot is limited to encourage physical distancing. Painting times are Monday-Friday, 11 a.m.-5 p.m. and Sundays from12-5 p.m.