The Phoenix examines the world; the world reexamines us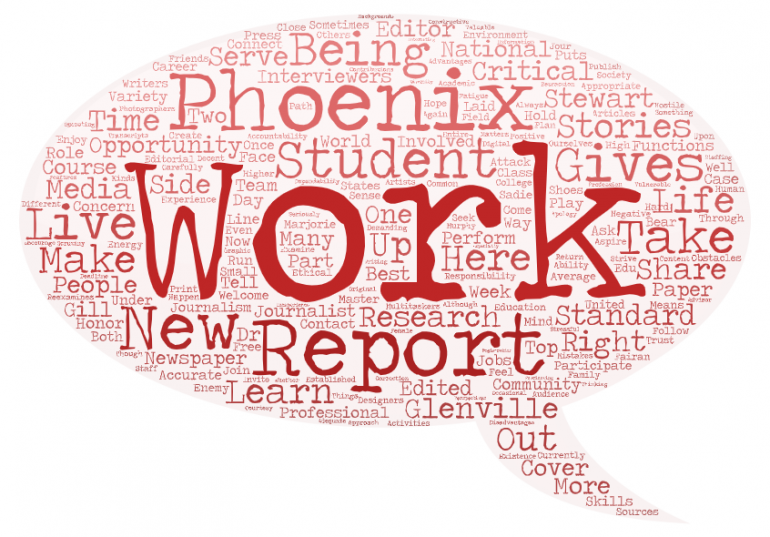 By The Phoenix Editorial Team
In honor of National Newspapers in Education Week, The Phoenix would like to share the life of an average student reporter. 
New media in the United States have been under attack. We are here to tell you that the press is not the enemy of the people, and The Phoenix is here to serve Glenville students and the college community.
Our reporters are master multitaskers. We are currently working with only two reporters who play the role of researchers, writers, editors, photographers, and interviewers. Being a journalist on top of being a student and working other jobs is demanding. We face obstacles of time and energy every day. Our articles are researched and edited carefully and we follow the ethical standards laid out by the Society of Professional Journalists.
Being a small paper gives us both advantages and disadvantages. On the positive side, we have the opportunity to cover a variety of stories and perform many functions. On the negative side, we have to cover a variety of stories and perform many functions. Although we are taking journalism as an academic course, we enjoy our work and would participate in any case. For us, being involved means more than a line on our transcripts.
Reporter Fairan Gill says, "Being in this class gives us something that no one can take from us. It gives us the ability to report and share news in an appropriate way, accurately and on time." Editor Sadie Murphy says that working with The Phoenix gives up the opportunity connect to friends, family, and the Glenville community. While other activities create connections, this work puts us in the shoes of our sources and audience. Once as reporters we have established trust, people approach us with their concerns. That gives us a sense of dependability and responsibility. We aspire to hold ourselves and others to a higher standard of accountability.
However, because of this responsibility and accountability, we are also vulnerable to close scrutiny and sometimes criticism. This is as it should be. As we examine the world, it reexamines us. We take constructive criticism seriously.
It is well to bear in mind that The Phoenix is a student run newspaper and one part of its existence is to serve as a learning opportunity. We come to the paper with different backgrounds, experiences, skills, and perspectives. While we strive to do our best and work hard to live up to the high standards of the profession, sometimes, through inexperience or fatigue, mistakes happen. When they do, we do our best to make them right: publish a retraction, apology, or correction as appropriate.
As we learn through work in the journalism field, all we ask for is common courtesy and the opportunity to make things right. Even though we are students, we are working in a professional environment and, as reporter Gill says, "We can all be decent human beings." If you have a concern about our content, feel free to contact the original reporter or advisor Dr. Marjorie Stewart. If one of us contacts you for information on a story, please respond as soon as you can - we understand that everyone is busy, but we are working on tight deadlines. 
Operating in a hostile national environment and living stressful student lives makes the work of a Phoenix reporter always interesting. We invite you to join us in that fascinating world. We especially encourage graphic designers and digital artists to participate, since we hope to return to occasional print editions when we have adequate staffing.
We also welcome contributions of news stories and features. All are welcome. Right now, the entire staff is female. Diversity of all kinds matters. Again, contact Stewart at Marjorie.stewart@glenville.edu for more information.
Also, registration for the fall semester is almost upon us. Seek out courses with the JOUR designation to get involved. Whether you plan a media career or not, the skills you learn are valuable in any career or life path. Critical thinking, accurate writing, research and interviewing, and working on a deadline are all part of The Phoenix experience.
(See "Help! The Phoenix wants to interview me!" for more information about working with the press, another story for National Newspapers in Education Week.)