Pioneers recapture treasured bit trophy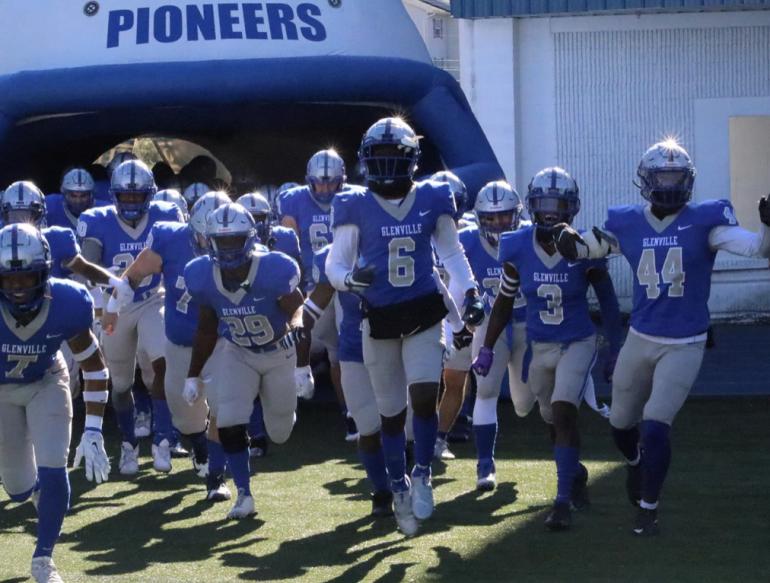 By Haden Coon
The Bit Trophy is coming back to Glenville; the Pioneers were able to come back and beat Fairmont State after trailing by 10 at the half. The game marked the annual "Battle of the Bit," which determines which team possesses the heavy mining bit trophy for the year.
Glenville finished the game with 396 total yards, which was 10 more than Fairmont State. However, the Pioneers committed seven more penalties than the Falcons.
The first quarter of the game was a high-scoring affair with teams combing for 31 points. Starting at their own 27, Fairmont State scored a 27-yard field goal. Glenville, on their first offensive drive of the game, scored a touchdown. A 10-yard rush by Zakee Swann set up the 20-yard touchdown pass to Javian Bellamy.
The Falcons, with help from running back Myles Miree, took another three-point lead. In less than one minute Anthony Garrett threw his second touchdown of the day. Zay Huff's 74-yard reception helped put the Pioneers in the in zone. Before the end of the first quarter, Fairmont State scored another touchdown, taking a 17-14 lead.
Freshman Anthony Garrett finished the day with four touchdowns, 257 passing yards, and one interception. Zay Huff produced 135 receiving yards and one touchdown. Alfred Menjor led the Pioneers in rushing yards with 64. Defensively, Seth Arnold led Glenville in tackles with 13. Shaun Stering Jr. finished the game with nine tackles, two tackles for loss, and one interception.
Photo by Dustin Crutchfield, GSU Office of Public Relations