Student Government calls for applicants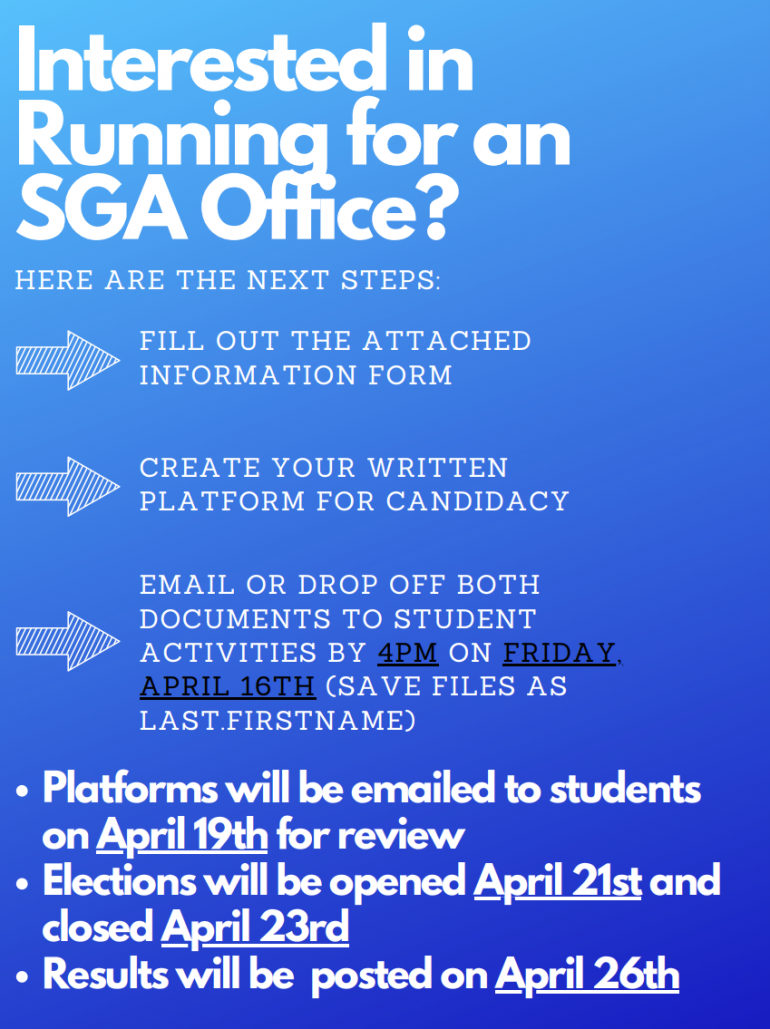 By Sadie Murphy 
The end of this school year will provide students with a unique opportunity. A majority of the Student Government Association Officer Team is expected to graduate. This leaves several positions open and very few senators who are qualified to run under normal circumstances. Last semester, after there were not enough individuals for a full officer team, SGA appointed Nicole Hansen as treasurer. The constitution allows for officer candidates who have not previously served a full semester as an SGA senator to be eligible for candidacy when no eligible members exist.
Being an SGA Senator is easy. This requires attending three consecutive meetings, with the third meeting including a short swearing in ceremony. Senators (who decide to) will continue to have membership the following year. They have the first four weeks of the new year to decide. The SGA constitution says, "All members have the right to terminate their membership via a written notice to the Executive Board." The worst that could happen is you could realize that SGA is absolutely wrong for you.
---
SENATOR DISTINCTIONS
There are also distinctions among senators. There are two Senators-at-large, one Commuter Representative, one  Nontraditional Representative, one Online Student Representative, and three Housing Representatives. Their roles are as follows:
Senators-at-large help the SGA officers team with events and governance.

The Commuter Representative reveals issues facing their constituents.

The three Housing Representatives are one each from Goodwin Hall, Pioneer Village and Riverfront. They reside in the facility they represent throughout their appointment and represent issues facing the on-campus housing population.

The Nontraditional Student Representative reveals issues facing their constituents.

The Online Student Representative reveals issues facing their constituents but "need not be physically present at SGA meetings."
With the exception of Athletic Representatives – who are chosen by the Athletic Director or Athletics Committee, all other aforementioned positions will be appointed by the SGA President and must be backed by a 2/3 majority vote by Senate.
EXECUTIVE POSITIONS
There are six positions on the Executive Officers SGA Team: President, Vice President, Secretary,  Treasurer, Parliamentarian, and Public Relations Officer. Candidates will have served one full semester as a senator previously (unless there are no qualifying candidates). Candidates must have been enrolled full-time for at least a year in the past. Candidates must have an overall GPA of 2.5 or higher at the time of election and must maintain this GPA throughout their serving term. Executive officers must maintain full-time status throughout their term. President and Vice President are required to run together. These positions require a one academic year commitment.  Their roles are as follows:
THE PRESIDENT presides over all meetings, gives the presidential report each meeting, has the power to call emergency meetings, acts as the intermediary between students and administration, has the privilege to attend all SGA committee meetings and appoint special committees (when backed by a 2/3 senate vote and the Vice President of Student Life's approval), sit on the Board of Governors and in the President's Cabinet, sign off on all approved purchases, serve as a HEPC Advisory Council Student Representative, and represent SGA on the College Leadership Council.
THE VICE PRESIDENT presides over meetings in the absence or at the request of the President, succeeds the President if the role becomes vacant mid-term, serves as chair for the leadership retreat and Student Organization Banquet, and represents SGA on the College Leadership Council.
THE SECRETARY is responsible for the succession of all official documents, keeps, prepares, and distributes each meetings minutes, agenda, and records, and tracks the attendance of all mandatory events to submit to the Direct of Student Activities.
THE TREASURER handles all financial affairs of the SGA and presents an itemized statement of all funds handled during each semester, and approves, coordinates, and documents all purchase transactions.
THE PARLIAMENTARIAN promotes order by making sure SGA is acting constitutionally and following Robert's Rules of Order. This appointed individual facilitates elections (with the Vice President of Student Life), assumes the duties of the Vice-President in his absence (temporarily or permanently), and swears in all members.
THE PUBLIC RELATIONS OFFICER  obtains approval for all marketing material, submits monthly updates to the Public Relations Office, advertises events and coordinates photography for them, and promotes Student Life activities.
The executive board of the  SGA gathers support from its ADVISORS – faculty or staff members by selected to assure that proper procedures are followed in the meeting room and advise and assist when called upon to. "Any advisor can be dismissed by a two thirds (2/3) majority vote by the SGA. Advisors may attend SGA Executive Committee meetings IF INVITED. 
---
If you feel like SGA membership may be right for you, you can check out the last couple meetings (Thursday's at 12 noon on the third floor of the Mollohan or virtually). Keep a lookout for information about meeting times for next year in your official GSC email.
If you think you are ready to take a leading role in Student Government, applications are now being taken. Application must be turned in before 4 p.m. this Friday, April 16. Application can be found in your GSC email or by emailing student.activities@glenville.edu. Applicants should also turn in a platform (for a few examples, click here).
Paperwork should be submitted to student.activities@glenville.edu with the Subject tag "2021-2022 SGC Candidate Information Form." You can also drop off your paperwork of at the Student Life office.
SGA sent out emails advising students participating at a voting capacity in the election, "The platforms of those eligible to run will be sent out on April 19th. We highly recommend that students review ALL of the platforms before voting. The ballots will be sent out electronically to all full-time students email on April 21st and will be open until April 23rd."
Results will be posted on April 26. Check back later for updates on candidates' platforms and election results.
If you have something you feel strongly about or want to discuss regarding the election, feel free to reach out to The Phoenix.
You can find a copy of the SGA Constitution by clicking here or visiting: https://www.glenville.edu/sites/default/files/2020-12/sga-constitution.pdf.
Cover Image distributed to students by The Student Government Association.