What's Next for Arikka Smith?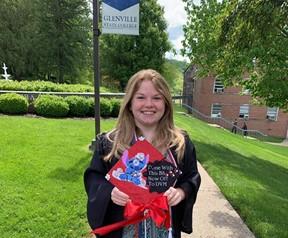 By Sadie Murphy
Steve Irwin and his family have been providing people of all ages with entertaining educational outlets since before many of us were born. We grew up watching his shows and his death impacted millions. His children have since adopted their father's spirit for helping animals.
For recent graduate, Arikka Smith, Bindi Irwin (daughter of Steve Irwin) was one of the main fuels that drove her love for animals and ignited her passion for helping them. Growing up, Arikka spent hours in front of her television watching Bindi: The Jungle Girl. It taught her about all kinds of different animals. Steve Irwin often guest appeared on the show.
Arikka was also equally inspired by Youtuber Kevin Richardson. She explained, "I always loved big cats and wanted to work with them. I was looking up videos about big cats and Kevin Richardson happened to be one of the main contributors. His "Ask Meg and Amy" videos answered questions I had. I fell in love with his charitable actions towards the animals – and not just big cats but hyenas too." Arikka's favorite animals is African lions because of their absolute beauty. For more information, click here. 
When we talked Arikka's mother, Conda Smith, she shared how her daughter has applied the teachings of Irwin and Richardson in her own life:
There were three little kittens in the sewer that someone dropped off. The ears were half gone, and they were skinny and starving. Oh, boy! Did they stink! She would not shut up until I put them in my car and brought them home. I thought my husband was going to kill me. Arikka was around 10 years old but she sat with them, cleaned them up, and fed them with a bottle. Two of them were so bad and they didn't make it - but not from lack of her trying. Arikka saved one and was so proud of herself. She sat there and explained to the kitten what happened to its brother and sister. She told the kitten how sad she was that they died but she would keep it safe from harm." – Conda
Arikka described growing up as a constant adventure. "There was always something to do and something new to learn," she elaborated, "It was a lot of fun growing up out in the country and going on four-wheeler or horseback rides. Finding new trails and the wildlife all around us was a bonus. My parents likely did not enjoy our surroundings as much. When I was younger, I thought raccoons were really cute, so I fed them off the back porch without anyone knowing. Next thing we knew we had an entire family of racoons and their friends coming to visit. Living in the country was a blessing because of the animals we do have: five cats, five dogs, three horses, and two sugar gliders."
Arikka explained that most days she feels her family is equally as happy about the pet opportunities their property offers, however, "They get tired of them getting under their feet sometimes." Her choice of favorite pets is tie between her dog, Brody, and her horse, Gadge, because they are always there for her when she needs them. Also, Brody and Gadge never fail to inspire Arikka no matter how bad her day has been. She described them as "they are as goofy as it gets."
Arikka is actively working towards continuing her education and training to help animals. During her stay at GSC, a necessary steppingstone to reaching her goal of being a Doctor of Veterinary Medicine, she studying biology religiously. Now that she has join countless others in obtaining alumni status, she is currently looking for opportunities to shadow vets at zoos. She hopes to get experience working with exotic animals. She revealed, "I want to work with all animals, but I want to work with exotics a while for now."
Arikka hopes to use what she learns while trying to build up her resume in the Virginia Maryland Institute in Blacksburg, Virginia. She believes that a job shadowing opportunity would set her apart for other applicants.
Her family is supportive of her aspirations and proud of what she has already obtained, as well as her fierce approach to following her dreams by continuing her education. Likewise, The Phoenix hopes wall the best for Arikka and wishes her good luck as she takes her next steps.
If you're like Arikka and want to prepare for a future in animal medicine, consider GSCs  pre-veterinary track program. For more information, click here.
If you are a recent graduate or upperclassman who is looking to bulk up their resume, try Chegg's internship database by clicking here.
If you think you may be ready to apply for a DVM program, find more information about Arikka's first choice school, Virginia Maryland, by clicking here.
For more information about the Irwin family and their conservation efforts in Australia, click here.