What's Next for Mitchell Blackburn?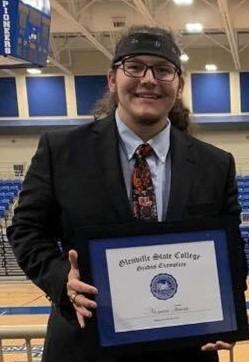 By Sadie Murphy
When it comes to careers in music, parents are not always supportive of their child's decision. Parental support and guidance are an important part of developing healthy relationships and interests. Luckily, recent Glenville graduate Mitchell Blackburn says, "My family has been nothing but supportive throughout my time at GSC. They're all the time asking me 'when are you going to come teach at Westside?'" His answer is yet to be determined.
His love for music started at a young age. He "always wanted to be in band" and claims to have "jumped on the bandwagon as soon as  [he] could." What started in middle school has grown continuously and Mitchell doesn't plan on stopping anytime soon. Currently, Mitchell focuses on percussion, plays the trumpet in brass ensemble, and sings in choir.
At GSC, Mitchell majored in General Music and was a drumline co-captain with his buddy Marcus Spinks.  He was a member of a variety of different organizations and clubs: Alpha Xi Omega, Marching Band, Percussion Ensemble, Concert Band, Jazz Big Band, Jazz Combo, Concert Choir, Chamber Choir, Brass Ensemble, and the National Association for Music Education (Nafme). His favorite piece to perform was "Ride" by Samuel R. Hazo (GSC Concert Band). He has held two officer positions within these organizations: treasurer of Alpha and treasurer of Nafme. Most students will recognize Mitchell as the sunny personality of the Rusty Musket (where he was previously the supervisor).
Alpha – one of Glenville's male social fraternities – is a popular choice among student life on campus. Glenville is cautious and reminds organizations of their strict anti-hazing policies frequently so that bullying is minimized, and students are able to form lifelong bonds with one another.
"Alpha Xi Omega (click here for more information) is a fraternity of honor, integrity, and brotherhood. Our history is important to us, but we are always looking to have more brothers in the future. We are a family that is here for one another no matter how hard the times get. Also, we are always around for when you want to just chill."
 It was the brotherhood that comes with Alpha that kept Mitchell involved. His favorite memory within the organization was marching in the homecoming parade wearing armor made of Alpha gear. This filled him with pride and belonging. Mitchell revealed, "I've never met a better group of guys, and to call them my brothers is an honor and privilege."
Marcus describes one of Mitchell's best qualities to be his unwavering reliability. He relates that Mitchell is the type of person who is there whenever you need help or someone to talk to about anything – a nonjudgmental, active listener.
His kindness is equally matching. Marcus recalled warm memories of late nights on cold porches opening up to his friend about problems they both had similarly shared. Marcus, who described himself as slow to open up to others, felt comfortable with Mitchell and this sharing experiences helped them grow closer.
"One thing I would say that most people might not know [about Mitchell] is that he will be there for you no matter what – even though him and I don't get to hang out very often, he will still always be there for me [despite] how long it's been since we last spoke."

- Marcus Spinks 
Mitchell surely has a bright future ahead of him. He plans to take the next semester or two to improve his Jazz skills and knowledge. He believes this will help prepare him for a Masters in Jazz or Teaching. If he goes into jazz, he is looking at the Masters program for Jazz at Marshall (click here for more information). Mitchell assured that he is keeping a close eye on the Masters of Teaching degree at GSC, in the case that he decides to pursue teaching instead of jazz.
Mitchell's Professors have had a lot of good things to say about Marshall's Masters in Jazz especially one professor who is a graduate of the program.  Mitchell's professors have all made a huge impact on his life and education. One that stands out for him is Professor John McKinney and his loyalty to Mitchell through his worst and best times:
"Through everything, he never stopped pushing me to be the very best I can be. There was a time when I felt that I wasn't good enough compared to others but [Mr. McKinney] reassured me that 'everyone goes on this journey at their own pace. It's about your progress as an individual and as a musician.' This advice really drove me to work hard and push through."

-Mitchell Blackburn 
The Phoenix  wishes new alumnus Mitchell Blackburn the best of luck in the future. We know that his strong character will help him accomplish his goals and show everyone what pioneers are capable of.
*Cover photo features a picture provided by Mitchell Blackburn that has been cropped.