Glenville State College 2021 Pioneer Showcase Winners Announced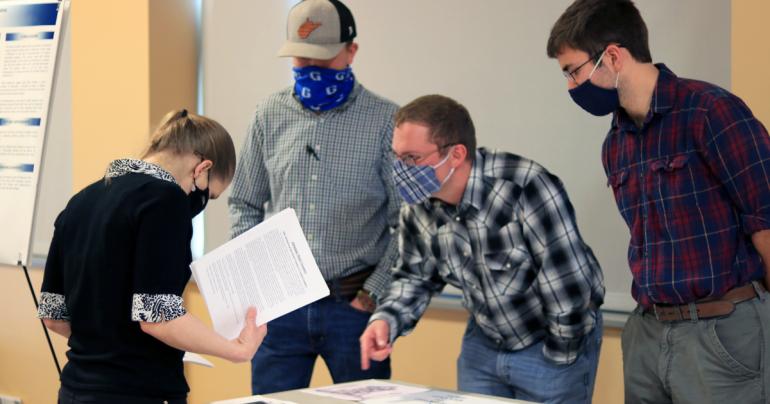 FOR IMMEDIATE RELEASE: April 28, 2021
For More Information:
Glenville State College
Public Relations Department
(304) 462-4115
GLENVILLE, WV - The winners of the tenth annual Glenville State College (GSC) Pioneer Showcase research, creative arts, and experiential learning forum have been announced. The competition, which is judged by GSC faculty, allows full-time GSC students the opportunity to formally present their academic work.
"We are always impressed with the quality and diversity of the work students present at the Showcase, but this year the judges were particularly impressed with the student presentations, especially given the constraints on academic work due to the pandemic," said Dr. Amanda Chapman, Assistant Professor of English and Pioneer Showcase Coordinator. "Our students showed incredible resilience in the face of substantial interruptions to the usual rhythms of research and creative production."
In the Science and Math Research Presentations category, first place was awarded to Jacob Petry for his presentation, "Natural Numbers: An Elegant Solution to a Problem Featured in Mathematics Magazine." Second place went to Qianjiao "Chloe" Chen for her work, "Visualization of the Spread of Coronavirus and Data Analysis."
In the Language Arts Presentations category, first place went to Anna Childers for "Arete and Virtue." Second place was awarded to Fairan Gill for "Ladies Man."
In the Honors Program Presentations category, first place was a tie between Leslee Coffman for work on her book "Stranded" and students Eli Henthorn, Asa Dick, and Jacob Amick for their "Lost Graves of Gilmer" surveying and preservation project. Second place went to Dalton Law for his research on "How AI and Data Analytics are affecting the Accounting Profession."
Jesse Kargol took first place in the Visual Arts Presentations category with his metal sculpture work.
In the Land Resources Management Presentations category, first place was awarded to Heather Moore for her presentation, "Sweden's Forestry Model: The Most Sustainable Country in the World May Suffer Environmental Consequences in the Long Run." Second place went to Katlyne Rollyson's presentation on "Forest Management in Brazil."
For more information about the GSC Pioneer Showcase, contact Chapman at Amanda.Chapman@glenville.edu or (304) 462-6328.