What's Next for Fairan Gill?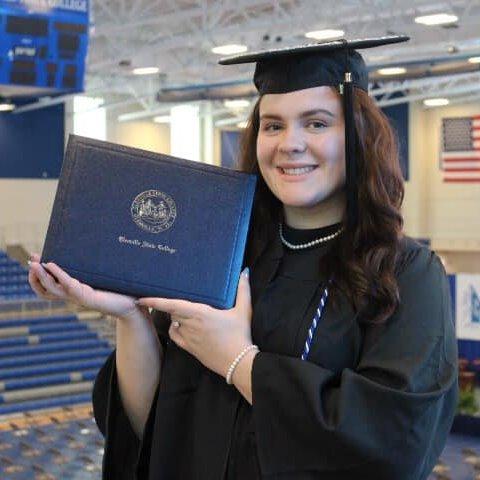 By Sadie Murphy
Fairan Gill spent most of her childhood doing what she considered "normal kid stuff." She was a young athlete and ballerina whose mother taught West Virginia History. She recalls with delight all of the trips that her mother took her on growing up, explaining that they "would go everywhere 'historical.'" This led Fairan to develop a love for history – something she describes as being a passion she wants to center the rest of her life around because of the happiness it instils in her.
A recent graduate, Fairan has obtained a Bachelor of Arts in History and Political Science from GSC. One of her professors described Fairan as having a notably great sense of humor as a student. While she liked and appreciated each of her professors, especially in her department, she will always fondly remember the elaborate stories of Dr. Ed Wood. Fairan will be one of the last students graduating with a communication arts minor. The college has removed that minor from the curriculum following the retirement of esteemed professor Dr. Dennis Wemm. 
Farian will begin studying at Marshall University this fall to obtain an M.A. of History: Certificate in Public History, where she will concentrate on early American history. For Fairan, Glenville and Marshall both "just felt like home. It is also financially ideal, and [she] got along with the facility." She revealed that the older she got, the more she wanted to stay in West Virginia because of how much the state means to her.
"It is my comfort," she shared.
She chose to continue her education in history so that she would be able to pursue a career working with the general public – perhaps, in a museum capacity or "anywhere the public is connected to history." She grew up so emerged in history that museums were akin to a second home for her. Her mother loves that path that she has chosen to embark on.
Fairan's mother, Deanna Gill, spoke with reporters about her daughter's sheer will power to pursue her goals and the loyalty that she has for those she cares about. Deanna shared that while she is very proud that her daughter is studying in the same field as her, she is especially proud of her daughters choice to enroll in a communications minor - something that was notably outside of Fairan's comfort zone. She used these skills as a journalist to publish feature articles in The Phoenix, Glenville's student newspapers. She was also a competitor in the 2021 Pioneer Showcase where she performed a theatrical rendition of an awkward first date in "Ladies Man," a monologue that she also write. It earned her second place in the Language Arts Presentations category. 
Other than her recent graduation, Deanna revealed that the proudest moment as Fairan's mother she had is when she began her internship at the Cultural Center where she was able to grow through the experience.  
She was part of the Historic Preservation program. Her first year she had to research and present about impoverish farms. She also learned about the historic cemeteries. Her second year she was put in charge of spearheading the historic registry of the President's house there at Glenville." -Deanna Gill
For Fairan, her most memorable moment would be her visit to The World War II Museum in New Orleans. Her trip was actually paid for in full after she won a competition where she submitted an essay detailing the history of World War II in WV. Her mother accompanied her on what would become one of the most crucial educational moments of her life. She was young when she went. There were multiple buildings with multiple exhibits, including aircrafts, tanks, and weapons. Each exhibit told the stories of thousand of individuals dating way back in our nation's history. There was a restaurant  that replicated a 1940s era diner, a realistic submarine simulation, and the opportunity to meet veterans from the war.
The veterans really opened her eyes to the importance of the war. Fairan divulged, "I know that it sounds like a turn off, but this was my first time experiencing this and I wanted to know more and share their stories. I think that's why I'm so in love with history. It's real life. It may have happened in the past but, d*mn, these events happened, and they still affect us today."
This is exactly what Deanna had hoped. She explained, "I have always tried to instill the love of history and it's importance to our lives. Her realizing this makes me happy."
If you think a Bachelor of Arts in History and Political Science may be right for you, check out more information by clicking here. 
For students preparing to be the next graduating class at GSC, click here for more information about Marshall's Masters Certificate in Public History. 
*Cover image provided by Fairan Gill
---
THIS IS PART OF THE MINI SERIES "WHAT'S NEXT FOR ..." FEATURING THE NEXT STEPS FOR RECENT GRADUATES. ARTICLES WILL BE POSTED ON MONDAYS AND FRIDAYS UNTIL FURTHER NOTICE. CHECK BACK ON THE PHEONIX WEBSITE BY
CLICKING HERE
AND FOLLOW US ON FACEBOOK BY
CLICKING HERE
TO STAY UP-TO-DATE.