Glenville State College President
Dr. Tracy L. Pellett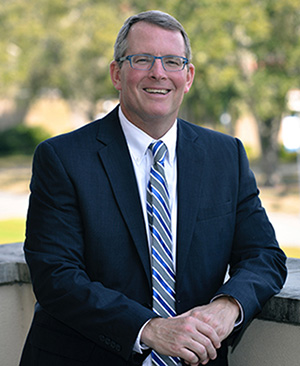 Dr. Tracy L. Pellett
President
(304) 462-4110
Tracy.Pellett@glenville.edu
A native of Orlando, Florida, Dr. Tracy L. Pellett completed his undergraduate studies at Carthage College in Kenosha, Wisconsin where he received a bachelor's degree in Health/Physical Education in 1987. He was four-time letterman on the Redmen football team and was selected by his teammates as the defensive captain his senior year. He later attended Ball State University, earning a master's degree in Teacher Education/Motor Learning in 1990 before receiving his Ed.D. in Curriculum and Instruction/Sport Pedagogy from Brigham Young University in 1993. He later attended Harvard University's Institute of Management and Leadership in Education.
Dr. Pellett started his professional teaching career as a middle school Health and Physical Education teacher and coach in North Carolina in 1987. After completing his doctorate in 1993, he has held a variety of college professorial positions at Northern Illinois University, the University of Arkansas-Monticello, Minnesota State University, Mankato and Central Washington. Dr. Pellett was tenured and eventually promoted to the rank of full professor.
Dr. Pellett has held a variety of administrative positions over the past several years, including, Assistant Dean and Director of Field Experiences at the University of Arkansas-Monticello and Executive Director of University Assessment at Minnesota State University, Mankato. At Central Washington University, Dr. Pellett was appointed the Associate Vice President for Undergraduate Studies and was later promoted to Associate Provost of Academic and Student Life. Before coming to Glenville State, Dr. Pellett worked as the Provost and Vice President for Academic Affairs at the College of Coastal Georgia (CCGA). While serving as the Provost and Vice President for Academic Affairs at CCGA, Dr. Pellett also served as the Interim Vice President for Advancement for a short period of time. Dr. Pellett initiated several high impact initiatives at CCGA, including the enhancement of undergraduate research, online learning, and various other enrollment and retention strategies. Dr. Pellett also reinvigorated the Annual Giving Fund Campaign and implemented social media strategies for enhanced institutional and public communication. He also oversaw cost saving strategies that resulted in decreased student cost of attendance totaling around $1.8 million. These strategies all helped bolster a new student percentage enrollment increase of over 12% that was the best in the entire University System of Georgia in 2017.
Along with an impressive professional resume, Dr. Pellett has served on various local, regional and national committees on topics ranging from program accreditation and education technology to advising and financial operations. Pellett has authored books including, Elements of Learning Volleyball and Instructional Strategies of Secondary School Physical Education and has published in scholarly journals including The Journal of Teaching in Physical Education, Journal of Physical Education, Recreation, and Dance and The Physical Educator. He also continues to be an invited reviewer of articles for the journal Perceptual and Motor Skills.
Since his arrival at Glenville State, Dr. Pellett has already demonstrated his innovative and enthusiastic leadership style by placing a strong focus on reducing tuition, board, and fee costs for students. His immediate focus on cost efficiencies, revenue collection, and overall budgetary management coupled with a focus on growing enrollment through online and off-campus programs bodes well for the future of the college.
He and his wife Dr. Heidi Henschel Pellett have two children, Dr. Abigail Pellett, a physical therapist in Greenville, South Carolina and Mr. Avery Pellett, a Regional Manager in Seattle, Washington. The family also has a dog named Teddy Roosevelt.
Dr. Tracy L. Pellett is Glenville State College's twenty-fourth president. He took office on July 1, 2017.