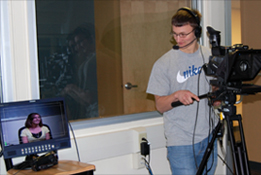 Pioneer Media is a student organization composed of students involved in the newspaper, radio station, or television station. If you are interested in journalism, writing, filming, editing, producing, broadcasting, working late nights, and living on cold pizza and coffee, this group is for you! No experience is necessary, but a 2.5 GPA is required and you must have completed CART 101, Introduction to Public Speaking. Students interested in a career in journalism or broadcasting will find a degree in Interdisciplinary Studies or a minor in Communication Arts, along with experience in Pioneer Media, beneficial.
The focus of Pioneer Media is primarily health and safety related. Content focuses on health tips from the school nurse, fitness pointers from the Fitness Center, injury prevention notes from the coaches and safety information from the campus police.
The school newspaper was originally called The Mercury and was in print from 1929 until 2001; some editions have been digitized and will soon be available for viewing in the Library Archive's pages. The printed versions of the Phoenix are available in digital format from the October 2005 edition. Beginning with the Spring semester of 2012, The Phoenix became an online newspaper, due to rising costs of printing and the time requirements of distributing paper copies.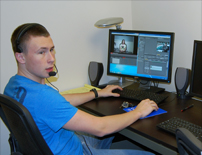 The radio station was brought online on February 6th, 2012 and is available via streaming internet. Glenville State College plans to apply for an FCC license as soon as they are being accepted, hopefully in the Spring of 2012. Once we are licensed we will broadcast over the air.
The television station is laying the foundation for future broadcasts. Students are learning the hardware and software, creating sound bites, graphics, logos, and theme music. The television station broadcasts over channel 2 on the campus satellite system. We hope to broadcast via a regional cable provider and also via streaming internet in the future.