Curtis Elam Athletic Hall of Fame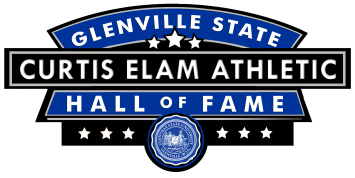 Curtis Elam Athletic Hall of Fame
Saturday, October 1
The six newest members of the 2022 Glenville State University Curtis Elam Athletic Hall of Fame class are set to be officially inducted on Saturday, October 1.
The inductees – who include Mike Eberbaugh '63, Tex Gainer '51, Brian Hill '93, Jim Scott '77, Glenard Vannoy '51, and Kim West '78. 
The banquet and induction ceremony will take place in the Mollohan Campus Community Center Ballroom at 6PM. A social reception will precede the event at 5PM. Tickets for the event are $25.
Glenville State University's Athletic Hall of Fame was established in 2001 through the generosity of the late Curtis Elam '49.
Tickets can be purchased below or through the Alumni Affairs Office by calling (304) 462-6116. Please RSVP by Friday, September 23.