Get Fit at GSC!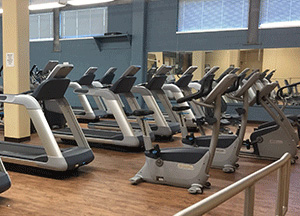 Build and maintain a healthy and active lifestyle at one or all of GSC's workout facilities. Our main facility, the Mollohan Fitness Center, is located in the Mollohan Campus Community Center on the ground floor. The Fitness Center was updated with all new equpiment in 2018. It has a comtemporary and upbeat atmosphere, which gives the campus community a welcome environment to enhance their overall wellbeing.
The cardio area is composed of Precor treadmills, cross-trainers, stair climbers and lifecycles. The strength training area is composed of Precor selectorized equipment and includes a training wall. A variety of group exercise classes are offered in the Group Fitness Studio. See class descriptions below.
The Waco Center, located at GSC's Mineral Road campus, is equiped with a large variety of free weights, purchased in 2017. The Center is open to students, faculty, staff and members who desire a muscle-building workout. Spotters are recommended, a Gym Attendant is available for sign in and orientation.
The Lilly Gym is located in the Health and P.E. building on GSC's main campus above the pool. This gymnasium is the former house of GSC Pioneer basketball and volleyball.
Closed on GSC holidays and major federal/state holidays.
Mollohan Fitness Center Hours
Monday - Friday - 6:00 a.m. to 8:00 p.m. 
Saturday - 11:00 a.m. to 2:00 p.m.
Sunday - Closed
Waco Center Hours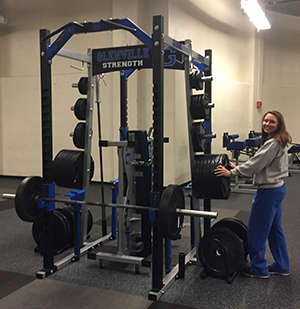 Monday, Wednesday, Friday - 8:00 a.m. - 3:00 p.m.
Tuesday, Thursday - 8:00 a.m. - 2:00 p.m.
Lilly Gymnasium Hours
Everyday - 6:00 p.m to 9:00 p.m. - Open Gym
Monday, Wednesday, Friday - 11:00 a.m. - 1:00 p.m. (Fitness Walking)
Tuesday - 4:00 p.m. - 5:00 p.m. (Ping Pong)
Classes
Group Fitness Classes at the Mollohan Fitness Center
Monday:
6:00 p.m. to 7:00 p.m.: Beginners Karate
7:00 p.m. to 8:00 p.m.: Advanced Karate
Thursday:
4:30 p.m. to 5:30 p.m.: All Levels Yoga
All Levels Yoga
This class introduces foundational yoga postures, teaches you how to coordinate breath with physical movement and helps you feel more comfortable in your yoga practice. The class introduces the fundamental principles of alignment and breath work in a flow of postures linked together by the breath. Students are introduced to yoga postures through step-by-step verbal description and demonstration. Emphasis is placed on understanding, safety, and stability within each pose. Gradually, poses are linked together into a gentle flowing sequence. This class is designed to meet the needs of those new to yoga as well as those seeking deeper understanding of yoga poses. All levels are welcome as modifications will be offered. 
Instructor Annaliza Marks.
Equipment is provided for Yoga classes however it is recommended that you bring your own mat for increased personal hygiene.
Fitness Center or Waco Orientation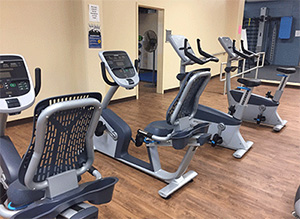 An orientation provides opportunity to gain a better understanding of the equipment. A staff member is available to provide a brief tour of the facility and demonstrate how to properly use each machine.
Orientations are free to students, faculty, staff and members.
To schedule an appointment, please refer to the contact information at the bottom of the page.
Usage Policies
All members and visitors must check in with the attendant on duty.
All members and visitors must fill out a Membership form and a health questionnaire.
Proper workout attire must be worn.
Please wipe feet before entering.
Disturbances and excessive noise will not be tolerated.
Music selections must not contain profanity or offensive lyrics.
Leave all bags and unused belongings in a cubby hole or locker.
Users are responsible for cleaning weights and equipment after use.
Do not drop weights.
Tobacco related products are prohibited.
Safety Guidelines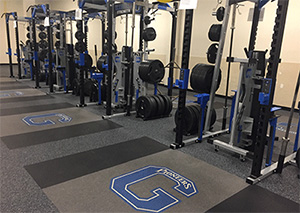 For your safety while participating in resistance training or cardiovascular activities, please observe the following guidelines.
Do exercises in a controlled manner.
Use spotters when doing exercises that involves the use of free weights.

Benching
Squatting
Others involving heavy weights

Wear appropriate exercise clothing.
Report broken or damaged equipment.
Report injuries to GSC staff.
You must be a minimum of 16 years old to use the free weights.
Staff approval is required for 14-15 year olds to lift free weights.
Membership
GSC Fitness Memberships are open to faculty, staff, students and the community. Membership includes access to the pool. Fees are as follows and can be paid at the Cashier's Window in Louis Bennett Hall, GSC Pool or in the Mollohan Fitness Center:
GSC Individual - Students, Faculty, and Staff: Free
GSC Family - Individual Student/Faculty/Staff/Graduate/Retiree + Immediate: $60/six months
Community/Corporate Individual: $30/month
Community/Corporate Family - + Immediate: $50/month
Day Rate - Access to Fitness Centers, Pool, and Lilly Gym - including group fitness classes: $3
Contact
Kathy Gilbert 
Director, Aquatics and Recreation
Fitness Center, Alan B. Mollohan Campus Community Center 
304-462-6441 
Send email