Homecoming 2022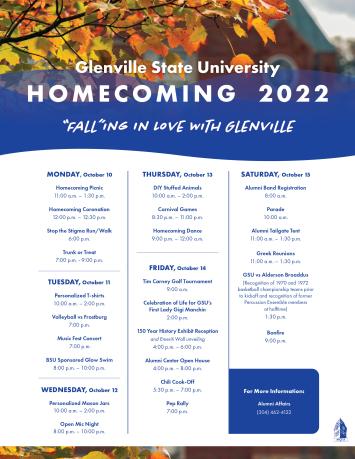 Homecoming is a time of annual celebration among current students and alumni and friends as everyone gathers on campus.
Homecoming will be celebrated during the weekend of October 10-15, 2022. The theme is "Fall"ing in Love with Glenville and is all about fall. Student organizations will base their floats, banners, and other activities around this theme.
This year, all former members of Glenville State's Percussion Ensemble are being recognized as the honored guests as part of the Homecoming festivities. Percussion Ensemble, first organized in the early 1980s by Professor Emeritus John McKinney, evolved from humble beginnings to become a marquee event for the Department of Fine Arts each year. We hope that everyone can join us in celebrating this excellent group of musicians.
Former Percussion Ensemble members will be recognized in the Homecoming Parade, at a special pregame tailgate, and during the football game at halftime. If you are a former Percussion member and plan to attend, please register by clicking here.
Additionally, former members of the Pioneer Marching Band are again invited to participate in this year's Alumni Band. Returning members can register at the Fine Arts Center at 8:00 a.m. on Saturday morning, will march through the parade playing the GSU fight song, will be special guests at the alumni tailgate at Morris Stadium, and will be recognized and play the fight song during the homecoming pregame show. Click here to sign up; contact Jason.Barr@glenville.edu or Lloyd.Bone@glenville.edu for additional information.
Alumni members of returning Greek organizations Lambda Chi Alpha, Theta Xi, Tau Kappa Epsilon, Sigma Sigma Sigma, and Delta Zeta will be holding tailgate reunions before the game. The groups will have special sections under the tailgate tent in close proximity to the larger alumni tent in which to visit and reminisce on Saturday.
Kickoff between the Glenville State Pioneers and the Alderson Broaddus University Battlers happens at 1:30 p.m. 
All alumni and friends are encouraged to make plans to come back to Glenville for this annual celebration. For questions or more information, contact GSU's Office of Alumni Relations by calling (304) 462-6116.
GSU Campus/Student Homecoming Information and Forms
Homecoming Parade

Homecoming Court

Homecoming Banner Competition

Homecoming Chili Cook-Off Competition
Community Homecoming Parade Entry Information and Form
Homecoming Parade

Parade Entries

The Homecoming Parade starts at 10:00 a.m. on Saturday, October 15, 2022 and everyone should be in the line-up (on College Street) no later than 9:30 a.m. Once you arrive at registration (North Entrance of the University), you will be instructed on where to line up for the parade.
Registration forms (see link below) must be submitted by Wednesday, October 12, 2022 by 3:00 p.m.
For more information about GSU's Homecoming Parade, contact Conner.Ferguson@glenville.edu or call (304) 462-6116.