Homecoming 2019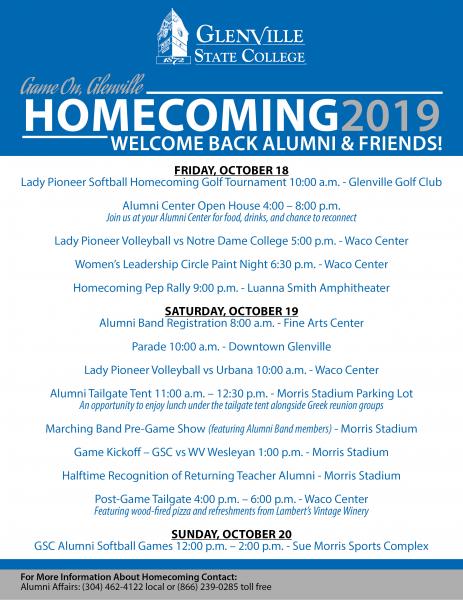 Homecoming is a time of annual celebration among current students and alumni and friends as everyone gathers on campus.
Homecoming will be celebrated during the weekend of October 18-20, 2019. The theme is "Game On, Glenville" and is all about games – board games, video games, action games, and more. GSC student organizations will base their floats, banners, and other activities around this theme.
This year's special honor group that will be returning to campus is our teacher education alumni. GSC has a long and proud history of training teachers dating back to 1872. Glenville State is nationally accredited and, with its updated facilities and dedicated faculty, is still home to the premier teacher education program in the region. 
As a thank you for all that our teachers education graduates do for their alma mater and the students of West Virginia and beyond, all teacher education graduates are invited back to campus to be recognized in the Homecoming Parade, a special pregame tailgate, and during the football game. 
All alumni and friends are encouraged to make plans to come back to Glenville for this annual celebration. For questions or more information, contact GSC's Alumni Office by calling (304) 462-6116.
Homecoming Event Forms
Homecoming Information for Student Organizations
Entry Form - Banner Competition