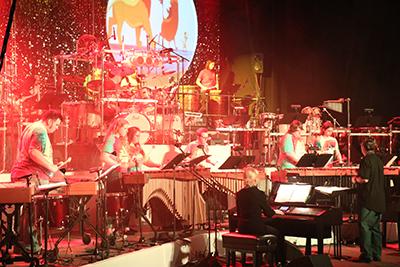 The Glenville State University Percussion Ensemble has been performing for more than 30 years throughout West Virginia and the eastern United States. The ensemble is known for putting on a show combining the effects of music, visuals, and lighting to enhance the audience experience.
The music includes traditional classic percussion ensemble literature, music from blues, rock, jazz, bluegrass, and country, Broadway and world percussion music including African and Tiako. The instrumentation includes traditional percussion mallet keyboards, drumset and Latin percussion, piano and electronic keyboards, African and Japanese drums, udos, and many electronic percussion instruments. The membership of this group includes students, faculty, and alumni of GSU and has included more than 200 performers over the past three decades.
The annual spring concert is an exciting event that continually sells out, despite performing up to five concerts during the weeklong event. The ensemble has performed more than two hundred concerts at schools throughout WV in venues such as the WV State Capitol, Snowshoe Mountain Resort, and The Greenbrier Resort. Performances outside our home state include the Opry Mills Mall of America and the Ryman Auditorium (home of the Grand Ole Opry) in Nashville, Tennessee.