This major provides a pathway for associate degree students in land surveying to continue their education for a baccalaureate degree. Students will be technically proficient in land surveying and will be able to develop a strong concentration in geographic information systems and resource allocation for careers with government agencies and the private sector. This degree will also provide the baccalaureate degree necessary for licensure as a professional land surveyor in West Virginia and Ohio.
Graduates of the Land Surveying associate degree program are eligible to take the Fundamental of Surveying examination and upon successful completion, they obtain the status of surveyor intern. The curriculum is approved by the West Virginia Board of Examiners of Land Surveyors and the degree provides two of the six years required for licensure.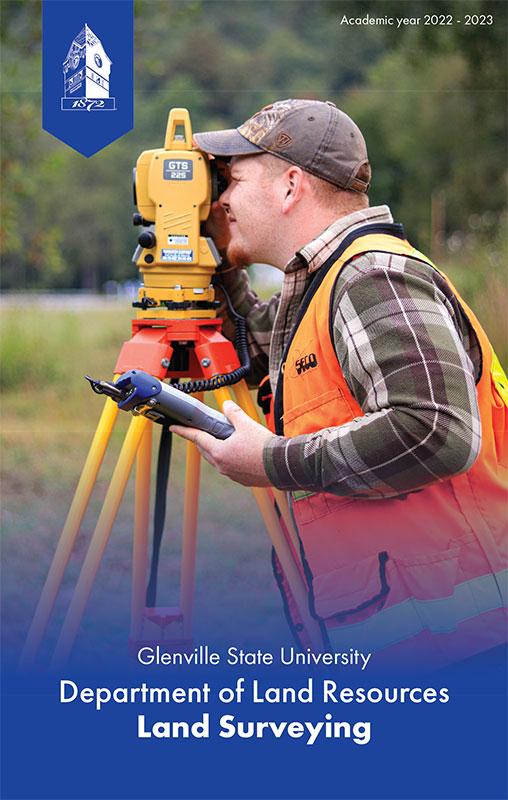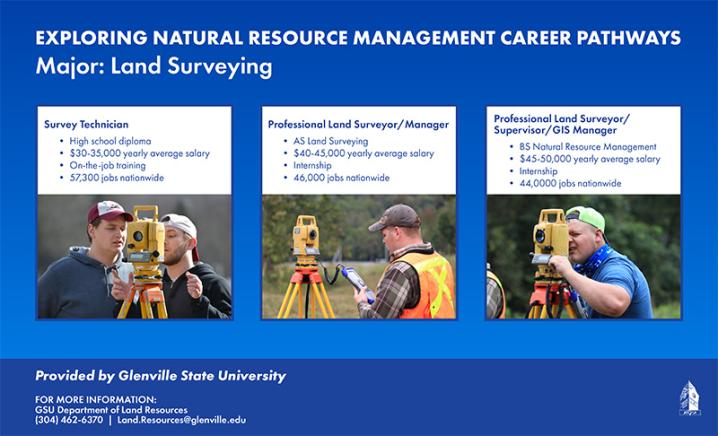 Mission Statement
The land surveying major within the Natural Resource Management degree prepares students for careers involving the mapping, measurement, and assessment of natural resources.  Graduates operate surveying equipment, prepare maps and documents, oversee construction and mining operations, maintain databases, and develop surveying standards.  The large number of business and management courses in the program prepares the graduates to be successful in managing surveying departments within other disciplines or within their own business.
Objectives
A graduate of this program will:
Study the elementary surveying measurements and computations and the opportunities and responsibilities in the surveying profession.
Write property descriptions to include descriptions, interpretation, and application to boundary line retracement and the writing of different types of property descriptions.
Study methods of boundary line establishment by unwritten methods, registration of surveyors, professionalism, liability of surveyors and other case and statute law related to property surveying.
Evaluate economic, political and social concepts impacting sustainable development and the use of natural resources.
Study different methods and instruments used to measure angles, distances and differences in elevation, and also study making traverse adjustments, area computations and various position computations.
Study error propagation in survey measurements and computations, design of horizontal and vertical control nets, meridian determination, map projections, and introduction to least square adjustment.
Apply measurement and computational techniques and boundary law to the retracement of property boundary lines.
Develop an understanding of land-based renewable resources including forests, rangeland, farmland, outdoor recreation, and wildlife.
Study runoff volume, culvert selection, storm water, pond design, flood routing and subdivision design principles.
Study state and federal mining, oil and gas regulations as related to surveying and the production of maps and plans and an applied study of the surveying and measurement techniques related to the mining and the oil and gas industry.
Students will:
Describe the air, water, and soil as components of the environment, and recognize human impacts on those resources

Evaluate economic, political and social processes in the use and sustainable development of natural resources

Summarize the major state and federal environmental laws and regulations

Interpret and utilize geospatial and surveying data in natural resource management

Apply methods for management of sustainable resources

Develop natural resource management plans, including schedules, budget, quality assurance, and health and safety, and communicate plans to diverse audiences